Start:
1st October 2024
     |      
End:
9th October 2024
     |      
Meeting location:
Nan City, Thailand
|      
Spaces available:
8
 - Expert herpetologist guides.
- Transport throughout the tour.
On the 1st October, we meet in Nan city and immediately drive through winding mountain roads with stunning views to Bo Kluea Tai, a traditional hill village nestled within a scenic valley in the uplands of far Northern Thailand, near the border with Laos. We will check into a luxurious resort where we will stay for the entire duration of this expedition. The resort is situated at around 650 meters above sea level and surrounded by mid-hill evergreen rainforest, with exquisite views over the Bo Kluea river and valley. Outside the resort is a huge variety of forest roads, rivers and trails, with some of the best herpetofauna diversity anywhere in South-East Asia. We will be out both morning and night, persevering in our quest to uncover the fantastic herpetofauna of Northern Thailand. As road cruising (driving while looking for snakes crossing the road) is by far the best method to finding high numbers of snakes in Northern Thailand, this trip will involve significantly more road cruising than our other expeditions. We will still have opportunities for hiking every day/night.

Across our 8 days in the area, we will have the chance to explore all elevations of the mountain, but will focus primarily on montane cloud forest as this is where the true "holy grail" species occur, those of course being the legendary Red river krait (Bungarus slowinskii), only seen a small handful of times in Thailand, and the Black-striped green rat snake (Ptyas nigromarginata) - one of the most incredibly beautiful species one can ever lay eyes on, capable of growing beyond 3 meters in length. Both are restricted only to the highest elevations of this tiny pocket of Northern Thailand.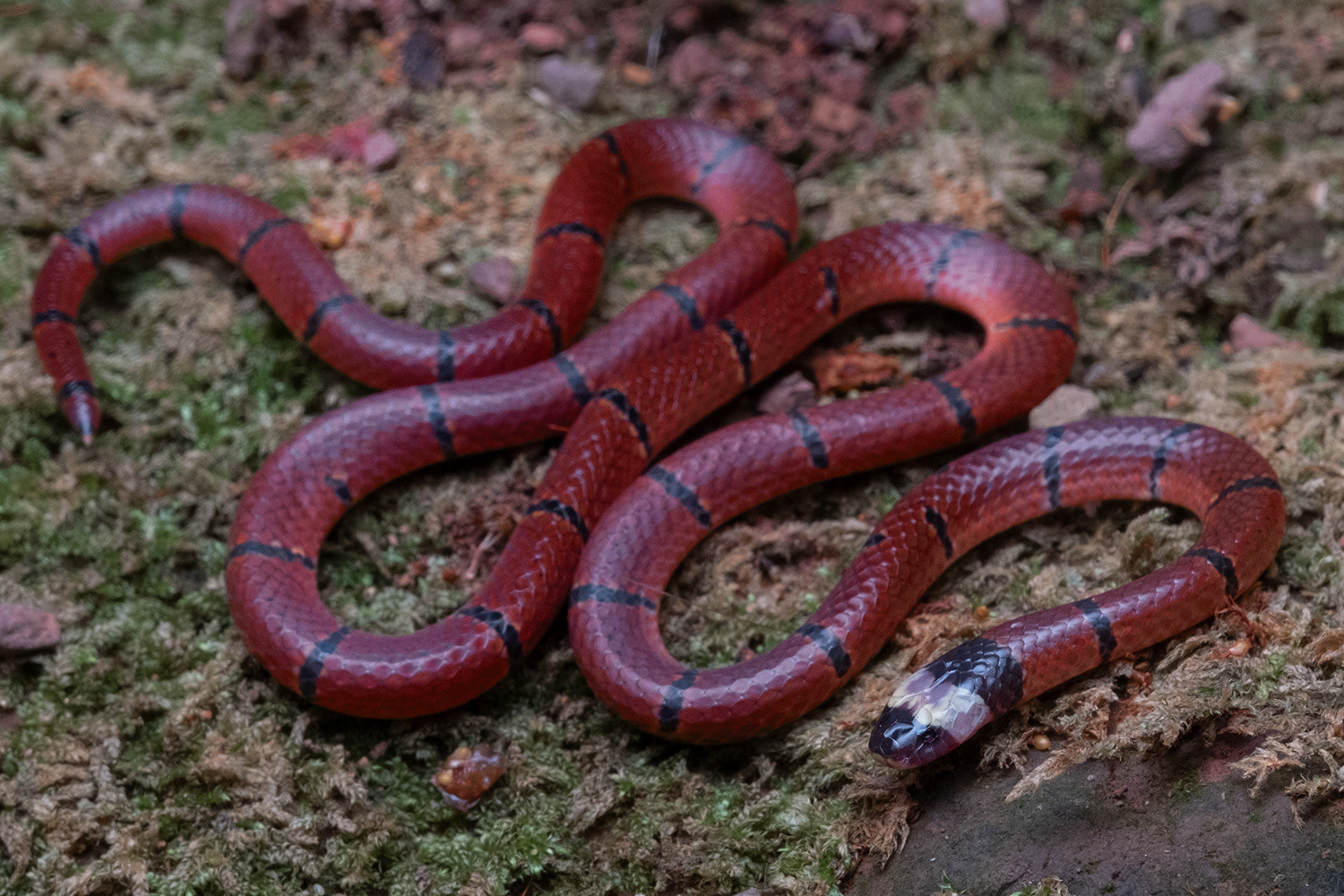 Beyond these two showstopper species, there is a simply astonishing amount of gems and rarities which we will target at the high elevations. This list includes some colourful jewels such as the Yunnan red bamboo ratsnake (Oreocryptophis porphyracea pulchra), Macclelland's coral snake (Sinomicrurus cf. macclellandi) and blue-eyed bamboo ratsnake (Gonyosoma coeruleum), while the ultra-rare Laotian bearded snake (Parafimbrios lao) remains a top target for our staff. In the lower submontane and mid-hills of the mountain, we can find the awesome many-banded green snake (Ptyas multicinctus), while our main target for the lower areas will undoubtedly be the Bamboo false cobra (Pseudoxenodon bambusicola). The closely related and incredible polymorphic large-eyed false cobra (Pseudoxenodon macrops) will also be a top target during this expedition. Furthermore, we will take one afternoon to hike to a remote cave system where the stunning Yunnan beauty ratsnake (Elaphe taeniura yunnanensis) has been seen in the past.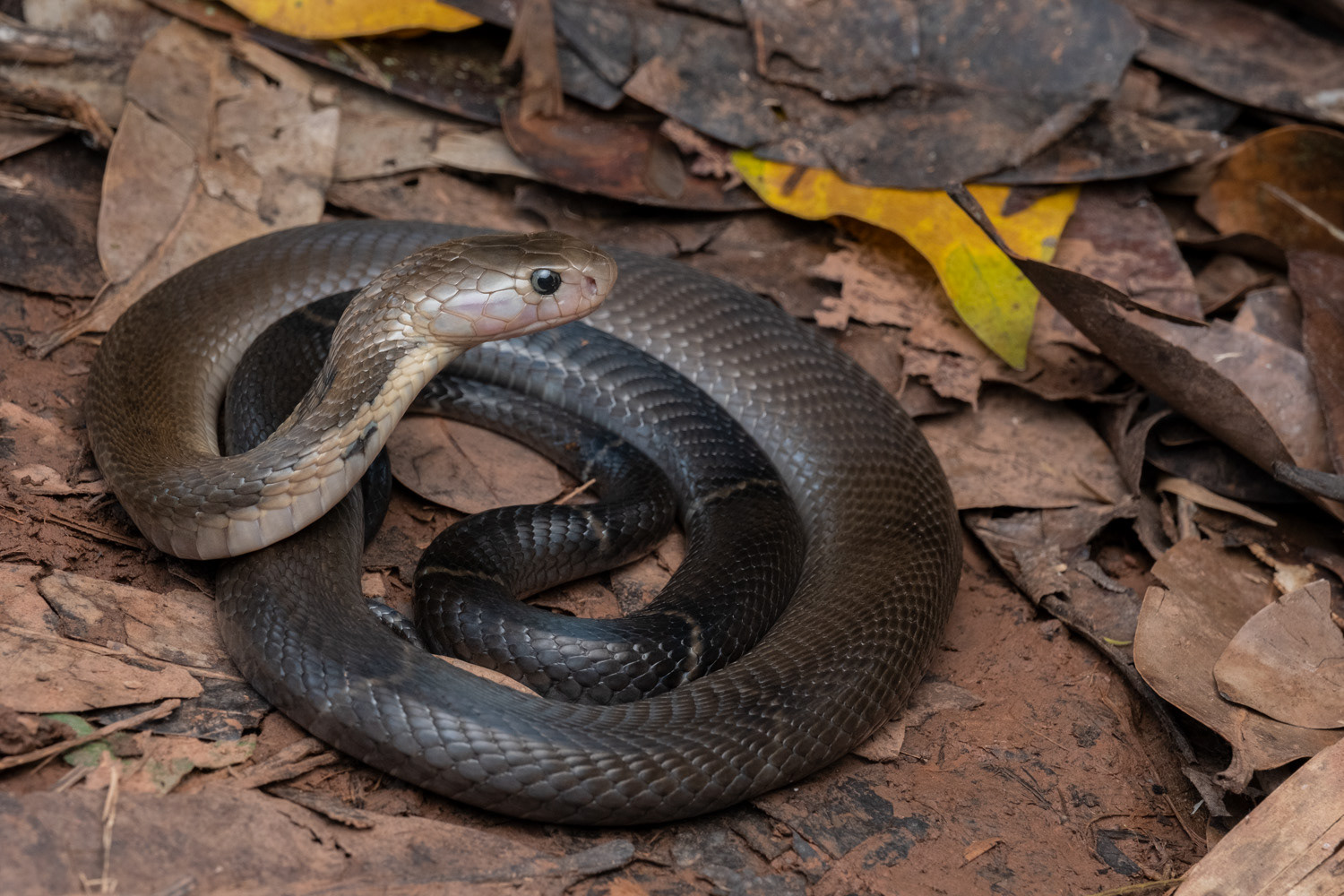 There are a minimum of 5 species of pit viper occurring in the area, the rarest of which being the mountain pit viper (Ovophis cf. monticola). These can be found on trails or crossing roads after heavy rain and we have had great success targeting this cryptic species if the conditions are right. For those that enjoy cat snakes, you'll be happy to know that the black eyed form of the green cat snake (Boiga cyanea) is common on the mountain, while the many-spotted cat snake (Boiga multomaculata) is more abundant in the lowlands. Kukri snake lovers can expect at least one small-banded kukri snake (Oligodon fasciolatus) to cross our path during our stay, but we will keep our eyes peeled for the much rarer and more beautiful ashy kukri snake (Oligodon cinereus), Joynson's kukri snake (Oligodon joynsoni) and Assamese kukri snake (Oligodon catenatus) - all recorded in the area. Although uncommon, in 8 days we have a great chance to encounter the brown-banded mountain cobra (Naja fuxi), recently described and occurring from low to high elevation.

We are visiting during the rainy season, meaning there will likely be many fascinating frogs and other amphibians active during our stay. The locally endemic Phu Ka crocodile salamander (Tylototriton phukhaensis) and giant flying frog (Zhangixalus feae) are two coveted amphibian targets restricted to montane forest. For lizards, the glorious Harold Young's supple skink (Lygosoma haroldyoungi) is our personal favourite lizard we have seen in the area and occurs from outside our resort to the very top of the mountain, and we will surely keep an eye out for the very rare Asian glass lizard (Dopasia gracilis). The Burmese mountain agamid (Pseudocalotes kakhiensis) is often found on foggy mountain summits, while the 'clown makeup' patterned scale-bellied tree dragon (Acanthosaura lepidogaster) is common across the area.
Book now to reserve your space on this long-awaited expedition to any area hardly any herpers have trodden, guaranteed to amaze with its beauty and biodiversity.
We will be staying at a very comfortable resort in Bo Kleua fo
r the entirety of our stay, overlooking the village and forested hills with the opportunity for herping right outside our private bungalows. The beds and facilities are high-quality and extremely comfortable, with WiFi and 5G available throughout the property. The standard package for this expedition is a shared twin bungalow, but one can specially request their own private room. 
We will eat both breakfast and dinner at the restaurant at our resort each day of the expedition. There is a fresh bakery with croissants and other treat available throughout the day. Both delicious Western and Thai cuisine will be available every evening. There is a 7-Eleven within walking distance of the resort, where we can stock up on snacks for while we are in the field. 
Environmental conditions & fitness:
On sunny days, the temperature in the lower elevations can rise to around 30C with high humidity. However, at the higher elevations of the mountain, the temperature can drop as low as 15C at night. We highly recommend packing at least one sweater. This trip is scheduled during the rainy season in Northern Thailand, so expect heavy downpours and pack appropriate waterproofs. 
During this expedition, we will spend a lot of time driving and walking on roadsides, but we will host more challenging hikes on forest trails and rivers, so a minimum level of fitness must be met. We advise the ability to walk 10 kilometers per day on uneven terrain. Mosquitos, leeches and other biting/stinging animals are part of jungle life, so long trousers/pants, long sleeved shirts and long socks are strongly advised. We specifically recommend rubber boots. 
All participants must arrive at the designated meeting point within Nan city by midday (12:00pm) on the 1st of October 2024. We advise all guests to arrive the night before and get a good night's sleep before the expedition begins. Daily flights to/from Nan Nakhon Airport are available from Bangkok every day, but we recommend booking far in advance. At the end of the tour, we will drop everyone off at the same location where we met in Nan city. 
It is the guests' responsibility to meet all entry requirements needed to enter Thailand, including visa procedures. Explore Herpetology can help advise entry requirements. Guests travelling from most countries do not require a visa to visit Thailand for less than 30 days. Make sure to check the entry requirements for your country before booking. There are no mandatory vaccinations or COVID restrictions in place for travellers entering Thailand or joining our expeditions.