Ever since our ground-breaking trip to Narathiwat ended, I had been itching to get back to Thailand's Deep South. Unlimited access to pristine tropical forests containing the highest biodiversity of herpetofauna is addictive, exacerbated by the daily prospect of uncovering an undiscovered treasure. Every day was a countdown to the next expedition. This time, we would not be returning to Narathiwat. Instead, Explore Herpetology would be taking on novel environments in neighbouring Yala province. Unlike the Narathiwat expedition, our 6 days in Yala would be split between 3 separate locations in slightly different habitat types. We also lacked distinct targets on this trip, with only the Malayan mountain pit-viper (Ovophis convictus) standing out as the most desired snake. Otherwise, the intention was to scout out new sites and find any rare species, particularly new country records.

There will be no tales of catastrophic flooding and troublesome landslides within this report. The 13-hour drive to the first destination in Yala went so smoothly that it only took us 10 hours, meaning we arrived at 7am ready to sleep until the afternoon. While our room was being prepared, monkeys and oriental pied hornbills awoke in the surrounding trees, and a forest crested lizard (Calotes emma) began basking outside our accommodation.
Once we had risen, I got to see the area for the first time in almost 10 years. The difference between now what I experienced in 2012 was incredible, highlighting the monumentally positive shift which has occurred in Thailand's Deep South. The last time I stayed at this national park, it was totally run down. It was effectively closed with no running water, no staff, and the trails were all overgrown. Today, it was newly renovated with several modern buildings, maintained trails, and filled with local people enjoying the waterfall. Moreover, the once desolate nearby town was packed with happy and welcoming faces enjoying the new restaurants, gas stations, and even a 7-eleven.

After breakfast/lunch, I managed to get out for a walk in the forest during the daytime. Heavy rain ended my excursion prematurely, but not before I managed to turn up a common worm gecko (Hemiphyllodactylus typus), an unknown day gecko (Cnemaspis sp. nr. narathiwatensis), a couple of clouded monitors (Varanus nebulosus), and only the *second ever* record of the grey tree skink (Dasia grisea) from Thailand. Unfortunately, this heavily cropped image was all I could muster of this exceptionally skittish animal – but very cool nonetheless.
The rain finished just in time for nightfall, so with forks of lightning periodically illuminating the sky and a background soundtrack of rolling thunder, we hit the field for the first night of the Yala expedition. The habitat around our first location of the trip consisted of Malayan-mixed dipterocarp forest within a limestone karst formation dominated landscape, displayed by a rather unexpected first snake find of the trip, a common wolf snake (Lycodon capucinus) trapped in a public restroom. This species has an extremely patchy distribution in Southern Thailand, primarily occurring on offshore islands and around limestone karst formations. Nearby, we found a deceased Malayan krait (Bungarus candidus) and a couple turtles (Cyclemys enigmatica).

Around the national park headquarters, I caught a juvenile Kuhl's gliding gecko (Gekko kuhli). Spotting Harry's torchlight not far away, I called him over to take a look. Just adjacent to where I was photographing the gecko, he spotted 2 snakes within a meter of each other. The first was a juvenile mangrove cat snake (Boiga melanota) and the second was a Malayan krait (Bungarus candidus), a species which has become somewhat of a staple on our southern expeditions.
Next, David turned up two more species of Boiga, a dark-headed cat snake (Boiga nigriceps) and a Bengkulu cat snake (Boiga bengkuluensis). Harry also found our first keeled slug snake (Pareas carinatus) of the trip, a very common species in the forests of southern Thailand.

After finding no snakes for the first couple hours of the night, I went on a bit of a hot streak, starting with a Malayan vine snake (Ahaetulla mycterizans), followed quickly by the first Blue bronzeback (Dendrelaphis cyanochloris) the team had seen in 2022 (photographed the following morning), and then a large and interestingly patterned white-bellied rat snake (Ptyas fusca).
I lost a dark coloured snake within a rock crevice along a stream, but shortly made up for it by spotting a dusky/slender wolf snake (Lycodon albofuscus) hunting along a large limestone rock face. The final snake I saw was another common wolf snake (Lycodon capucinus), not photographed.
David saw a few further snakes too, including yet another Lycodon capucinus and the second Boiga bengkuluensis of the night, but by far the greatest find was this rare Malaccan slug snake (Asthenodipsas malaccanus).
Some interesting non-snake finds from our sole night in this area included a couple beautiful green crested lizards (Bronchocela cristatella), an earless agamid (Aphaniotis fusca), a juvenile Bell's angleheaded lizard (Gonocephalus belli), and a stunning armoured horned dragon (Acanthosaura armata).

The final remarkable reptile of the night was an awesome juvenile Peter's bent-toed gecko (Cyrtodactylus consobrinus), arguably one of the most impressive geckos in Thailand and very uncommon in Yala province. This was the only individual seen on this trip.
While the focus of our expedition hinges on reptiles, we do pay attention to key amphibians. Malayan horned frogs (Xenophrys aceras) and spotted litter frogs (Leptobrachium hendricksoni) are always nice to see, and an appearance from the uncommonly observed wide-disked bullfrog (Kaloula latidisca) was great.

29 species of reptiles and amphibians in one day, (including 11 species of snake) was an exceptional way to begin the trip and made me somewhat regret only scheduling a one-night stay in this location. Still, we have much time to return here in the future, and two more exciting locations to explore in the following days.

Around 5pm on the second day of the trip, we arrived at our second location. This was the location with the most significance – where we would try to find the most cryptic and elusive viper in Thailand, the Malayan mountain pit-viper (Ovophis convictus). The cold, damp air of the highland forest evoked PTSD from tirelessly trying (and failing) to find this species in the past, but also anticipatory excitement from being in a little-explored environment where a myriad of rarities can be found.

The first snake of the night was exactly what I expected, a Siamese peninsula pit-viper (Trimeresurus sabahi/fucatus) – a staple of highland forest on the Thai-Malay peninsula. However, this was the first and last live individual of this species seen. Near our bungalow, I picked up a keeled slug snake (Pareas carinatus) and Harry found the first Schlegel's reed snake (Calamaria schlegeli), also in the garden of our accommodation.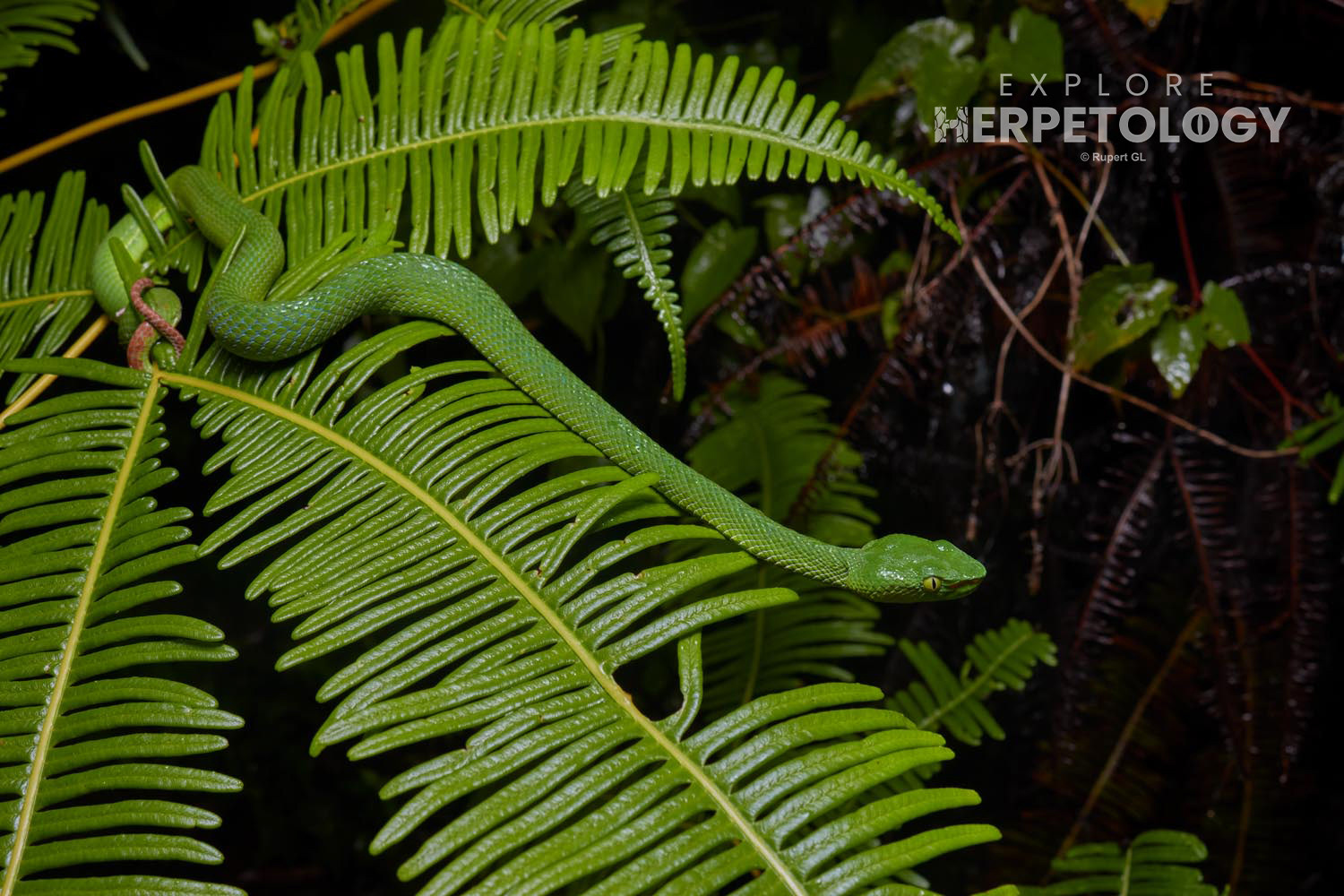 There were several Cyrtodactylus cf. macrotubercalus around the garden. We also turned up an elegant bronzeback (Dendrelaphis formosus) and a juvenile water monitor (Varanus salvator).
We had been focusing on areas where we knew Ovophis convictus had been observed, but the lack of productivity pushed us into a strategical reassessment, whereby we decided to hit some trails at the highest elevations. The trails were a bust, only turning up a few geckos and Bell's angle-headed lizards (Gonocephalus belli), but I did spot a triangle keelback (Xenochrophis trianguligerus) swimming in an area of wetland. I tried to catch it but sank up to my knees in the swamp and it disappeared. However, while trying to navigate out of the muddy water, I saw and caught a very attractive frog. This turned out to be, at the very least, a new record for Thailand – most likely a new species entirely (photos omitted from this report for publishing reasons). Harry also saw a Wallace's flying frog (Rhacophorus nigropalmatus) high in a tree.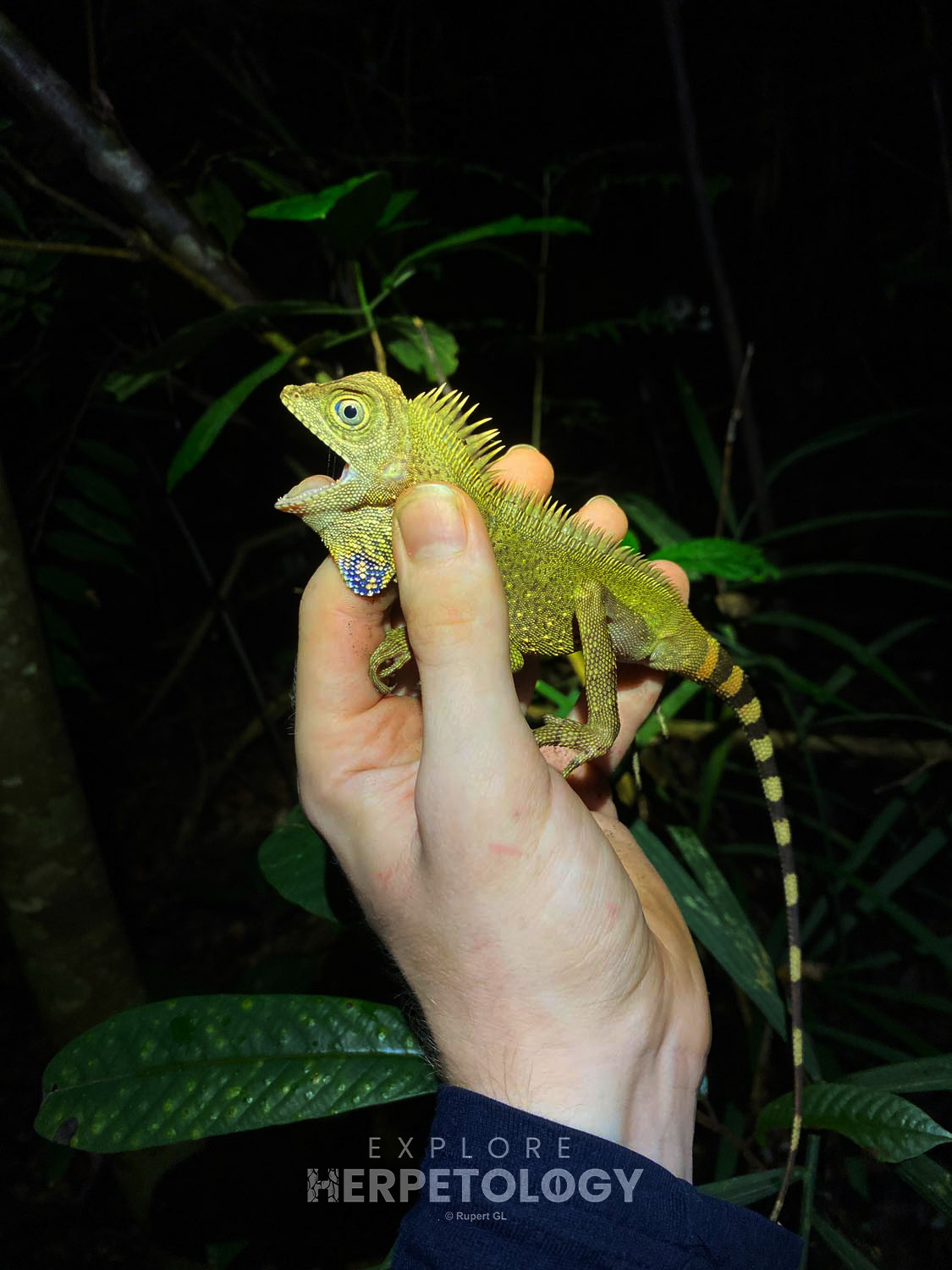 Not far from the pond, Harry found another elegant bronzeback (Dendrelaphis formosus), while I turned up the second keeled slug snake (Pareas carinatus) of the night and our first and only oriental vine snake (Ahaetulla prasina) of the trip – a yellow/orange morph juvenile.

Our most exciting find came at almost 2am in the morning when David spotted a large red-headed krait (Bungarus flaviceps) in a drainage ditch. Not much needs to be said about this amazing snake.
The last interesting observation of the night was a cat gecko (Aeluroscalabotes felinus), a rare species in Thailand. This was only the second I'd ever seen it, and the first for the rest of the team.
The second and final night at this location meant the last (semi-realistic) chance to see Ovophis convictus, so we began by going extra hard around the garden of our accommodation. A day of heavy rain had brought the caecilians (Ichthyophis cf. supachaii) out in force, as well as the Calamaria schlegeli, of which I quickly saw 3 individuals. The only other notable find in the (large) garden of our accommodation was an armoured horned dragon (Acanthosaura armata).

Despite good conditions and a mighty search effort, no Ovophis convictus revealed themselves. Moreover, we struggled to find any snakes. In multiple hours of searching, David managed to find 2 snakes, both Pareatidae. The first was a white-spotted slug snake (Pareas margaritophorus agg.), one of the most common snakes in southern peninsula Thailand. However, the second was the similar-looking yet considerably rarer mountain slug snake (Pareas macularius).
At the pond from the previous night, I went for another wade and managed to catch a Malayan softshell turtle (Dogania subplana). Then, back at the accommodation and shortly before calling it a night, I found a beautiful green-headed morph of the dark-headed cat snake (Boiga nigriceps) and a final Calamaria schlegeli.
It was disappointing not to find our number 1 target of the trip; however, good things were still to come. The following afternoon, before leaving the highlands, we went for a drive to release a couple animals held for identification and photography purposes. We went over to a drainage ditch to release one of the Pareas, and just sitting there in the ditch at 3pm was a small yet extremely beautiful Malaysian blue coral snake (Calliophis bivirgata ssp. flaviceps). This took us completely by surprise, leading to an impromptu photo session which was cut short (as per usual in Thailand's Deep South) by extremely heavy rain.
The torrential downpour continued until we arrived at our third and final location of the Yala expedition, where we were welcomed by a lovely juvenile Malayan racer (Coelognathus flavolineatus) right outside our accommodation.
As nightfall came, the rain did not lay off. We hoped it would ease off as it had by the evening of our previous days of trip, but this was not the case. Regardless, snakes were active in the rain, and the first find of the night was a very good one. The striped coral snake (Calliophis intestinalis ssp. lineata) had been a major target of both Harry and David, and was the first individual I'd ever seen in Thailand.

The rain continued to pour and the snakes continued to rack up. Following the Calliophis intestinalis, we saw a white-bellied rat snake (Ptyas fusca), 3 Hagen's pit-vipers (Trimeresurus hageni) of which one was an absolutely giant female, 2 mangrove cat snakes (Boiga melanota), a dark-headed cat snake (Boiga nigriceps), and a striped bronzeback (Dendrelaphis caudolineatus). It was raining so hard that none of us were willing to get our cameras out. The bronzeback and large female T. hageni were photographed the following day.

By the time we got back to our accommodation for snacks, we were soaked through and honestly quite cold. Thus, we took a short break to dry off and change clothes before heading back out again. The rain finally stopped at around 1am, meaning we could enjoy the rest of the night without rain jackets and umbrellas. Before even making it from our village to the forest, I spotted a Haas' bronzeback (Dendrelaphis haasi) resting on the crest of a tall reed. This is one of the rarest Dendrelaphis species in Thailand, a lifer for both Harry and David. Photographed the following day.
Once we reached the forest, we found 2 juvenile Wagler's pit-vipers (Tropidolaemus wagleri) right next to each other (photographed in-situ the following morning), as well as a larger juvenile female on a fruit tree near our accommodation. The juvenile female was one of the most defensive T. wagleri we'd ever seen, a typically placid species.

It was almost 4am in the morning by this point, but I was still feeling extremely motivated to keep herping, so I decided to give late night road cruising a try. Harry joined me, and while discussing our favourite finds from the trip so far, we began debating whether the red-headed krait from the highlands was a 'showstopper'. I began the sentence "a red-headed krait is always a showstopper", but didn't get half-way through before a massive red-headed krait (Bungarus flaviceps) suddenly appeared stretched out on the road ahead and cut my sentence short.

The second encounter with this awesome and relatively rare elapid concluded a very successful day, as well as marking the 12th time I've seen this species - maybe not so rare after all.
In line with the previous days of the expedition, most daylight hours of the penultimate day of our trip were consumed by heavy rain. However, on this occasion, the rain stopped by around 8.30pm and we were able to get out into the forest earlier than the previous night. Off the rip, I spotted a white coloured snake resting in the bushes which turned out to be an insanely pale morph of the speckle-headed vine snake (Ahaetulla fasciolata), somewhat abundant in parts of southern Thailand but actually very rare in the southern border provinces.
This was shortly followed by 2 juvenile Boiga bengkuluensis and a blunt-headed slug snake (Aplopeltura boa) – the 5th species of Pareatidae we had seen on this trip.

It became tough to turn up snakes after these 4 early observations. In the subsequent 2-3 hours, we only observed a Malayan vine snake (Ahaetulla mycterizans), another striped bronzeback (Dendrelaphis caudolineatus), and a 2 meter plus Dog-toothed cat snake (Boiga cynodon). This would have been a great find, but it was far too high in the trees to catch.

The most productive aspect of this night was the discovery of a new trail through the forest, which seemed like it had a lot of potential. Harry and I walked it late at night and found a dusky/slender wolf snake (Lycodon albofuscus) which we left in-situ and watched hunt a skink – a fascinating observation of a poorly known species.

Upon meeting back up with David, he had just found a stunning adult female Wagler's pit-viper (Tropidolaemus wagleri). We'd seen juvenile females on both this and the previous expedition, so finally getting a jaw-dropping adult was a great end to what had been a tough night of herping. This was not the last snake of the night however, as there was a keeled slug snake (Pareas carinatus) lurking in the bushes only a meter from the Wagler's.

The final day of the Yala expedition had arrived all too quickly. I was having an amazing time on this trip, really feeling at home amongst the dense tropical jungle. The rain had even stopped by nightfall on this evening, priming us for a long and fruitful final venture.

Surprisingly, it took us a while to find the first snake. The most consistent trail from the previous nights turned up nothing, so we hit the newly discovered trail. Harry found both a Narathiwat day gecko (Cnemaspis narathiwatensis) and a huge Wallace's flying frog (Rhacophorus nigropalmatus) early in the night, which I then followed up with a small striped bronzeback (Dendrelaphis caudolineatus) and an elegant bronzeback (Dendrelaphis formosus).

Further along the recently discovered path, I spotted and caught something really special. Unfortunately, it will not be featured in this report, but it was a first ever record for a rare and special reptile in Thailand – completing one of Explore Herpetology's primary ambitions for this trip.
Harry and I again hiked a stream high into the hills, finally encountering some traces of the elephants which were supposedly common in the area. We saw several snakes, but nothing special. The finds included 3 blunt-headed slug snakes (Aplopeltura boa), another elegant bronzeback (Dendrelaphis formosus), a white-bellied rat snake (Ptyas fusca), a juvenile Wagler's pit-viper (Tropidolaemus wagleri), and the second huge Hagen's pit-viper (Trimeresurus hageni) of our time here.
Amongst these snakes, we observed both a cinnamon frog (Nyctixalus pictus), an adult Bell's angle-headed lizard, and many great angle-headed lizards (Gonocephalus grandis). We'd seen so many G. grandis at each location of this trip, but this was the first and last one photographed.

On a night where lizards and frogs stole the show from snakes, it was no surprise that the best find during our hike up the mountain was a frog. We had been hearing the calls of this species constantly throughout our time here, but had thus far been unable to track one down. That was until we decided to turn back, and while walking down an elephant path near the stream I saw some large eyeshine coming from a place where you don't typically get river toads (Phrynoidis aspera). I knew a frog of this size could only be one thing, and sure enough it was our 'biggest' frog target of the trip – the long-nosed horned frog (Pelobatrachus nasuta). Undoubtedly one of the coolest and most iconic frogs in South-East Asia, this species only occurs in Yala and Narathiwat provinces in Thailand.

David found a further white-bellied rat snake (Ptyas fusca) and juvenile Hagen's pit-viper (Trimeresurus hageni), but the only new snake for the night came at the very end when I walked upon a sunbeam snake (Xenopeltis unicolor) near our accommodation. The final reptile seen was a cool flying lizard (Draco maximus).
And thus concluded our time in Yala province. After a 10-year absence, I returned to a province totally changed. Small towns bustling with happy people, high-quality roads, and delicious restaurants provide the perfect backdrop to an enriching and exciting naturalist venture. Nowhere feels better to explore than a welcoming environment, especially when that environment holds the herpetofauna of your dreams, so we will certainly be returning to Yala in the near future – especially with unfinished business in the highlands.
Want to join an expedition just like this?
Explore Herpetology are returning to Narathiwat province in Thailand's Deep South for a monumental 7-day herping trip, and we have a few places available for people to come with us! Click the link below for details on how to join a trip to the frontier of herpetology in Thailand
–

see tour details.
Complete Species List of the trip:
*Note: Species may appear in this list but not the above report if individuals were not photographed or observations were fleeting.
Ahaetulla fasciolata

Coelognathus flavolineatus
Dendrelaphis caudolineatus

x3
Xenochrophis trianguligerus

x2
Acanthosaura armata

Aphaniotis fusca

Cnemaspis narathiwatensis
Cyrtodactylus bintangtinggi
Cyrtodactylus consobrinus
Cyrtodactylus macrotuberculatus
Cyrtodactylus quadrivirgatus
Abavorana nazgul

Duttaphrynus melanostictus
Ichthyophis cf. supachaii
Leptobrachium hendricksoni
Rhacophorus nigropalmatus