A busy schedule meant our third ExHerp expedition of the year was delayed. Moreover, we had not decided where to go. The north of Thailand was still a no-go due to seasonality, and thus the south beckoned once again. Despite the astounding success of our first field trip to Narathiwat province in early March, I felt like we had unfinished business. There were neglected sites that we wanted to visit, and sites discovered late on our previous trip which warranted further investigation. On the night of the 7th of May, we began the long drive to the Deep South. Our immeasurable excitement for the highly anticipated return to Narathiwat was peaking.
That was until our car broke down in the middle of the night. Instead of spending the first night of the trip at a key location I had been scoping out for months, we were stranded at a random town in Southern Thailand, desperately trying to rectify our situation. However, the beauty of being in Thailand is that there are herping opportunities everywhere. By the late afternoon, we had selected a site on the outskirts of town which looked like it had potential, and as soon as nightfall came, we hopped on some adjacent motorbike taxis and got out into the field.
Due to time constraints, this report will be a lot less detailed than the previous ones. Additionally, we were taking our fieldwork even more seriously, so only the most notable species were photographed.
The night began with 2 cute little white-spotted slug snakes (Pareas margaritophorus) and 7 beautiful pit-vipers (Trimeresurus venustus).
Around some pools of water, we had a skull-faced water snake (Homalopsis sp.) escape, but managed to catch 3 sleeping snakes, an in-slough red-necked keelback (Rhabdophis siamensis), a bronzeback (Dendrelaphis cf. pictus), and an Indo-chinese rat snake (Ptyas korros).
Including the snakes, we recorded over 30 reptiles and amphibians on this rainy evening. I got my camera out for a Marten's puddle frog (Occidozyga martensi) and a Malayan snail-eating terrapin (Malayemys macrocephala).

After waking up very early the following morning, we were back on the road by midday. Extremely heavy rain across Southern Thailand slowed our journey substantially, but we had arrived in Narathiwat, eaten dinner, and settled into our accommodation by 9pm, and were out in the field by 10.

This rather short first night turned out to be our most productive night of the trip numbers-wise . We found 9 Hagen's pit-vipers (Trimeresurus hageni), 3 Bengkulu cat snakes (Boiga bengkuluensis), 2 keeled slug snakes (Pareas carinatus), 2 sunbeam snakes (Xenopeltis unicolor), a Malayan vine snake (Ahaetulla mycterizans), an oriental vine snake (Ahaetulla prasina), a juvenile white-bellied rat snake (Ptyas fusca), a dog-toothed cat snake (Boiga cynodon), and a rusty-barred kukri snake (Oligodon signatus).

The second night was also incredibly productive for snakes, blowing our expectations out of the water. It started with the exact same adult male Sumatran pit-viper (Trimeresurus sumatranus) individual we had found on the previous trip, 2 Trimeresurus hageni, and a young male Wirot's pit-viper (Craspedocephalus wiroti).

Along with lots of other common snakes as by-catch, we managed to find a variable reed snake (Calamaria lumbricoidea) – another target species of ours – as well as two cool amphibians: Pulchrana sundabarat and Icthyophis cf. larutensis (the latter not officially recorded from Thailand).

Charged up off this exceptional start to the night, we ventured into some freshwater swamp forest habitat and found a large mangrove cat snake (Boiga melanota), a tiny juvenile dark-headed cat snake (Boiga nigriceps), and a blackwater ratsnake (Xenelaphis hexagonotus) – an extremely rare aquatic species and a major target of ours.

Within the swamp, we also found a leaf turtle (Cyclemys enigmata), a juvenile Boiga bengkuluensis, a juvenile Trimeresurus hageni, and in a stream adjacent to the swamp, we encountered 2 long-nosed horned frogs (Pelobatrachus nasuta) right next to each other.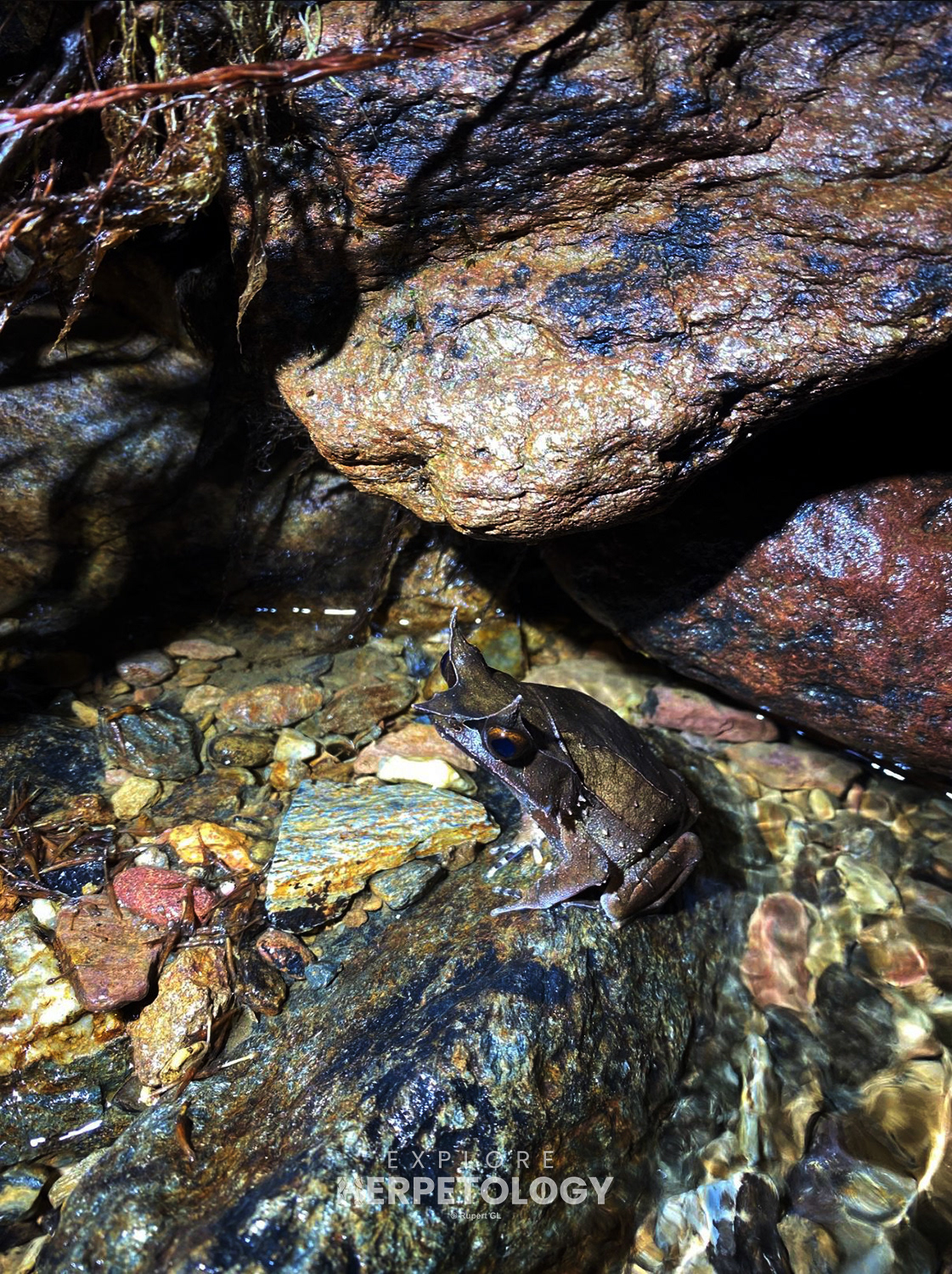 One could argue that this trip had already been as productive for rare species as our previous trip to Narathiwat, and we were extremely tired due to the turmoil of the previous days, so we took a day off to rest up.

Upon our return to the forest on the 4th night of the trip, it took us a while to turn up our first snake of interest (the previous were all B. bengkuluensis, T. hageni or A. mycterizans). However, the first good encounter was another Wirot's pit-viper (Craspedocephalus wiroti) – this time a tiny juvenile male with intricate pink and green patterning.

Later that evening, we found 2 Malaccan slug snakes (Asthenodipsas malaccanus), both with striking black and white patterning. This rare species has been showing up in surprising numbers this year, both on our trips and those of our friends.

While foraging around in the forest by myself, I encountered the black morph of the striped coral snake (Calliophis intestinalis) amongst some leaf litter. I have seen around 20 C. intestinalis in my time in South-East Asia but this was the first I had ever found which was not on or beside a road.

The only other notable finds of the night were a Malayan banded wolf snake (Lycodon subcinctus) and the first adult Bengkulu cat snake (Boiga bengkuluensis) of the trip.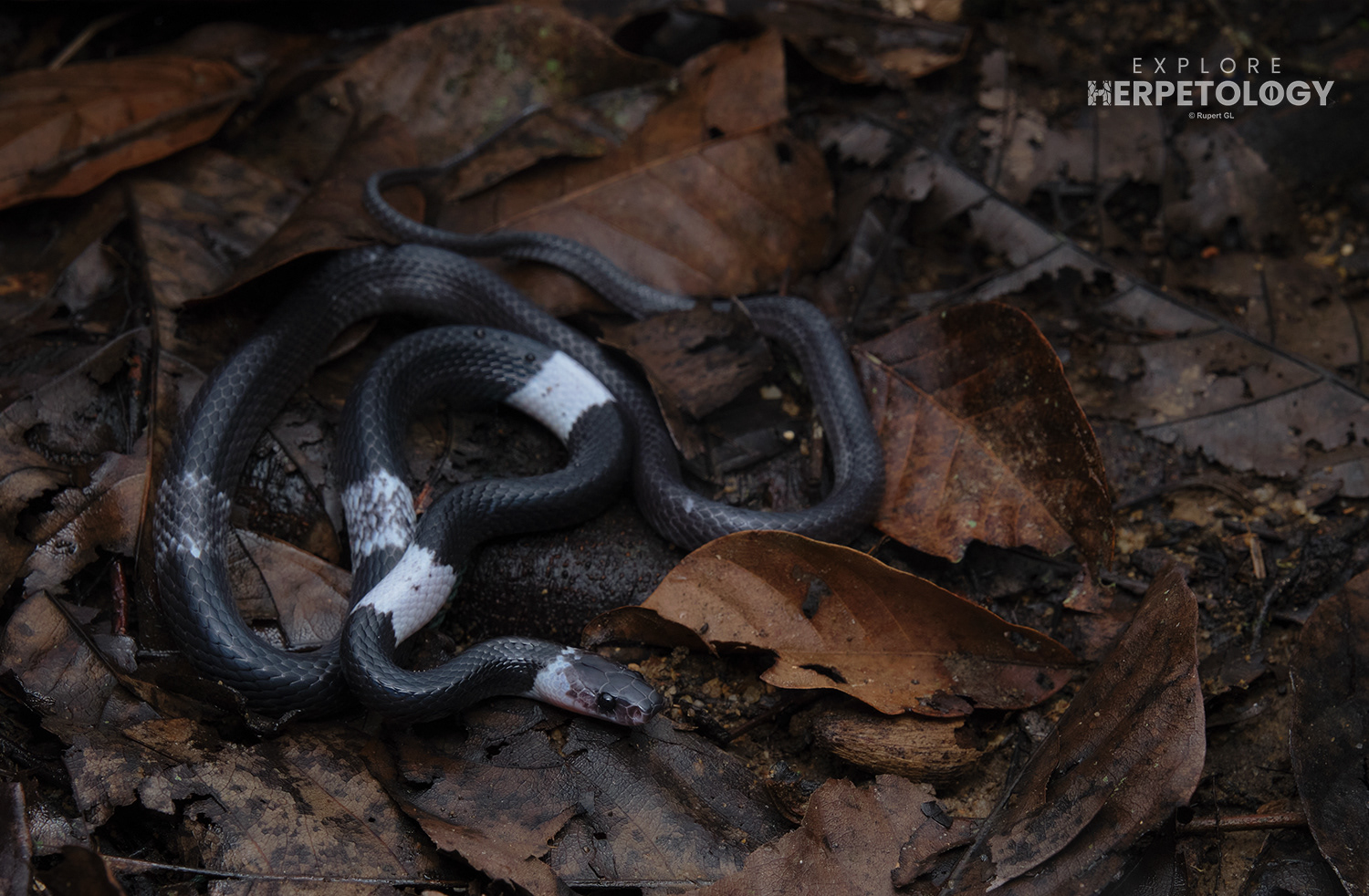 As we got ever-closer to full moon, the nocturnal finds began to slow down even further. Our penultimate night in the primary dipterocarp forests included a few common species, but the remarkable encounters were limited to a large Jasper cat snake (Boiga jaspidea), a stunning armoured horned dragon (Acanthosaura armata), a decent sized long-nosed horned frog (Pelobatrachus nasuta), and an adult white-bellied rat snake (Ptyas fusca).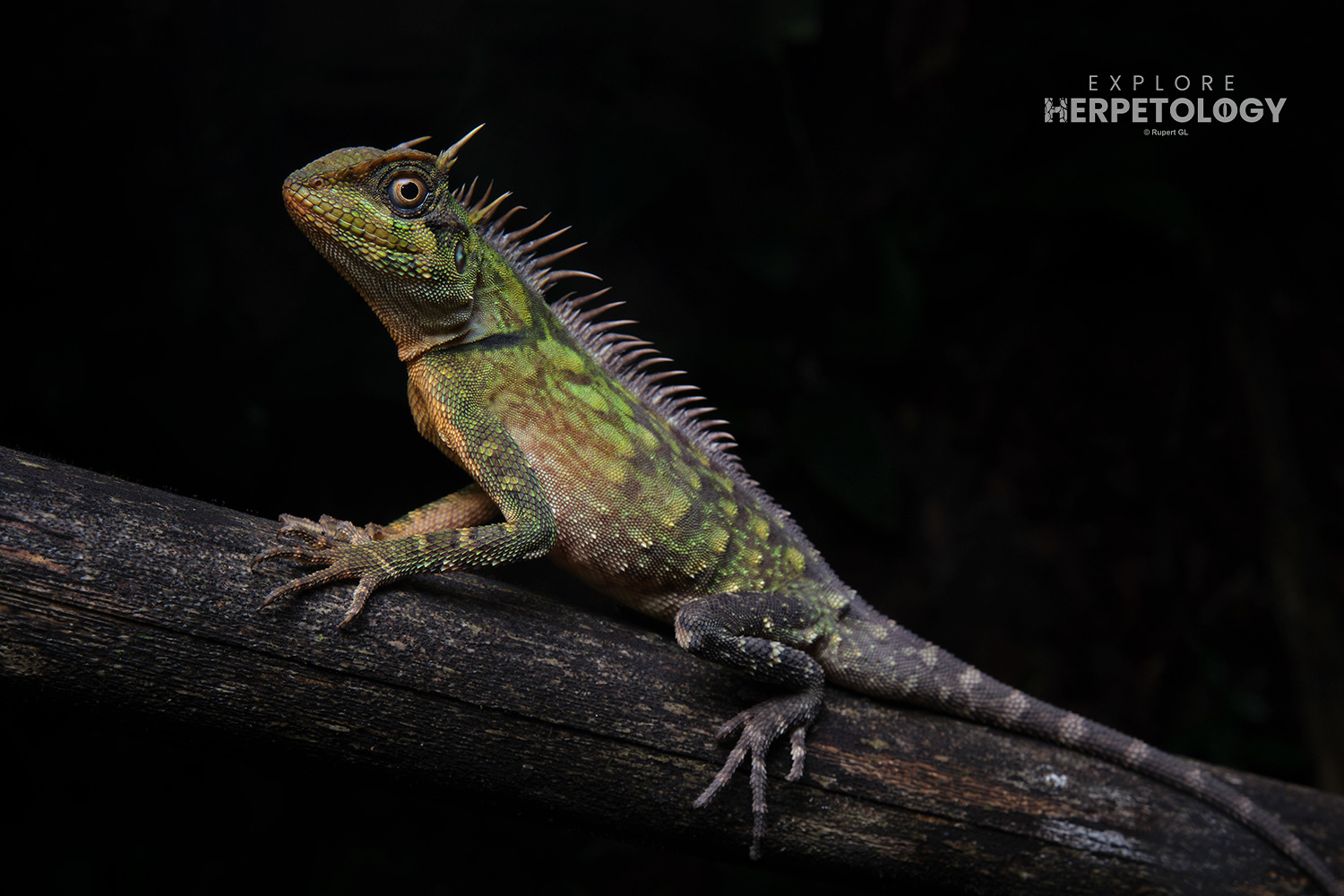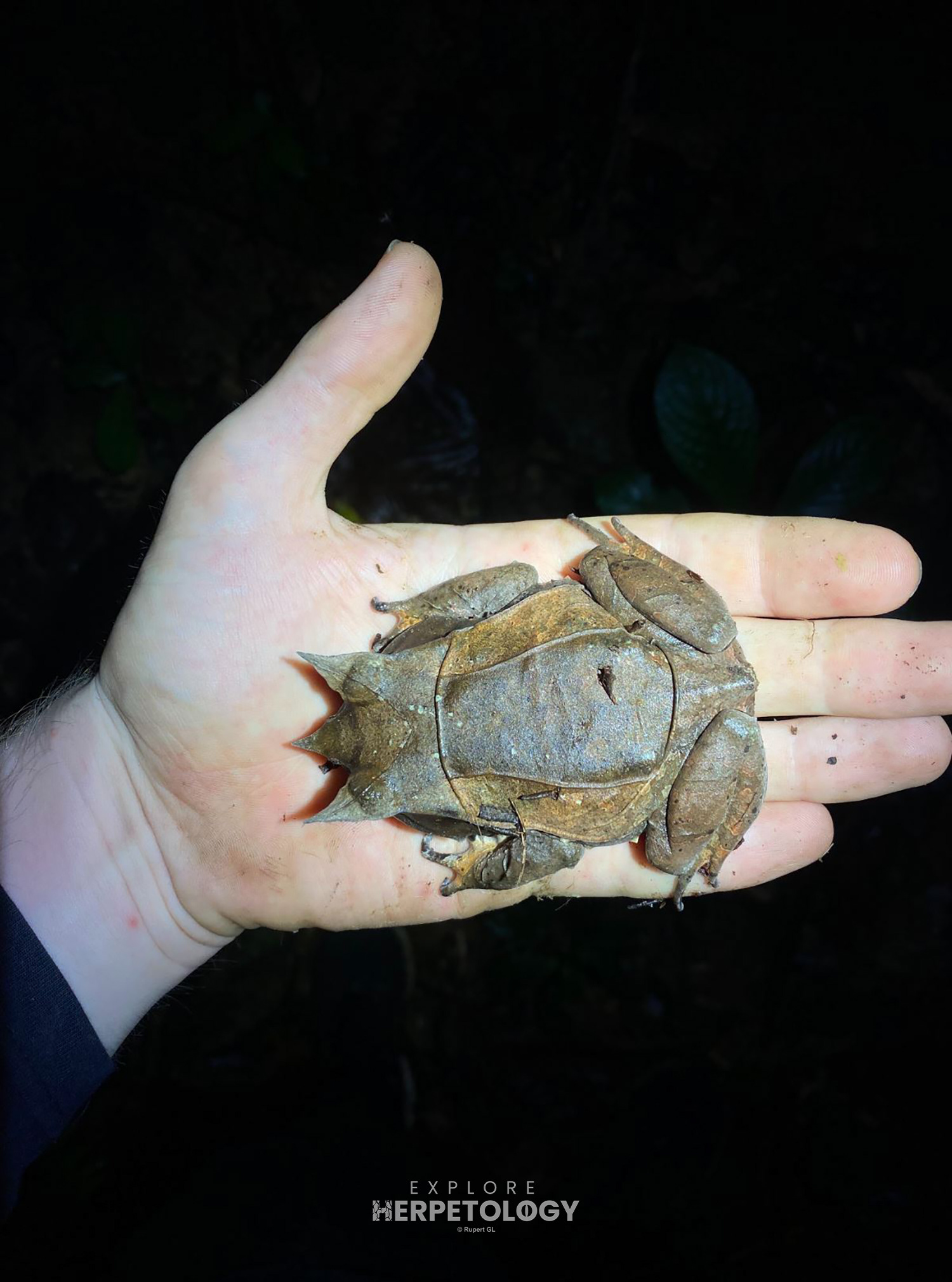 On the last night in the area, we found the lowest number of snakes of any night so far. That said, the quality was extremely high. We started the night with yet ANOTHER tiny juvenile Wirot's pit-viper (Craspedocephalus wiroti), likely a sibling of the one from earlier in the trip. Pretty impressive that our #1 target from the previous expedition and one of the most notoriously elusive vipers in the region had become our second most commonly seen pit-viper in the area.

The next find was one of the more 'uncommon' vipers in Narathiwat, an adult male Wagler's pit-viper (Tropidolaemus wagleri), checking off the final arboreal pit-viper species inhabiting the low hills of Narathiwat. We also encountered a couple cinnamon frogs (Nyctixalus pictus) for the first time in this area, amongst some other rare frogs which didn't make it into the report.

However, the defining snake of our final night was a very small juvenile blue-necked keelback (Rhabdophis rhodomelas). An extremely rare and beautiful natricine, it will surely go down as one of the nicest snakes I've ever got to see in the flesh.

With one final night remaining on the trip, we drove to a larger area of swamp forest in Narathiwat to target another rare natricine, the orange-lipped keelback (Rhabdophis flaviceps). This Thailand 'holy grail' species eluded us, but our bycatch was incredible!
After starting the evening with a large radiated racer (Coelognathus radiatus) crossing the road, we went on to catch 2 elephant trunk snakes (Acrochordus javanicus) – considered by many to be one of the hardest snakes to herp in Thailand. Following on from that, we caught another (albeit very sickly) blackwater ratsnake (Xenelaphis hexagonotus) and a GIANT Bocourt's mud snake (Subsessor bocourti) – also a target for us in this area.
Our less remarkable encounters were a rainbow mud snake (Enhydris enhydris), 2 Jodi's pipe snakes (Cylindrophis jodiae), a painted bronzeback (Dendrelaphis pictus agg.), and a puff-faced water snake (Homalopsis buccata). An interesting non-snake from the swamps was a black marsh turtle (Siebenrockiella crassicola).
And so concluded our third (and possibly final) deep south expedition of the year. This action-packed adventure left us with stings, cuts, bruises, wet clothes, and empty pockets, but also the most valuable species list of any trip so far. As always, Thailand's extreme south did not fail to surprise and Narathiwat province was an absolute pleasure to visit. Not mentioned in this resort are the many kind and friendly people we met along the way, and countless moments of hilarity.

If you want to join us on an expedition to the most biodiverse area of Thailand, book now.

Want to join an expedition just like this?
Explore Herpetology are returning to Narathiwat province in Thailand's Deep South for a monumental 7-day herping trip, and we have a few places available for people to come with us! Click the link below for details on how to join a trip to the frontier of herpetology in Thailand
–

see tour details.
Complete Species List of the trip:
*Note: Species may appear in this list but not the above report if individuals were not photographed or observations were fleeting.
Acrochordus javanicus

Ahaetulla mycterizans

Boiga nigriceps

Ptyas korros

Acanthosaura armarta

Cyrtodactylus consobrinus
Cyrtodactylus quadrivirgatus
Siebenrockiella crassicollis
Amolops larutensis

Leptobrachium hendricksoni
Limnonectes deinodon/laticeps